I was just typing this up for a friend & thought I'd share it here too.
Adapted from a recipe in "American Pie" by Pascale Le Draoulec (a fabulous read!)
The picture is of the pie I made.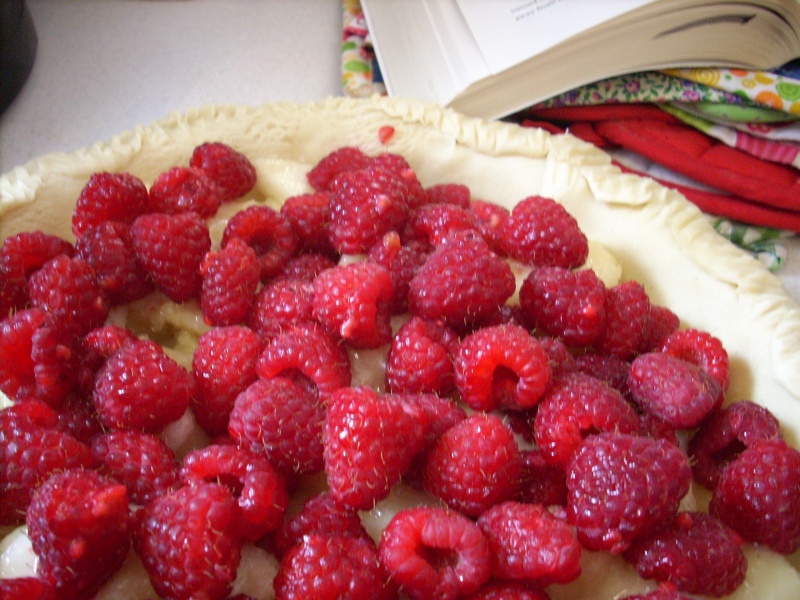 Crust:
1-15 oz package of refrigerated Pillsbury pie crust.
Filling:
3 firm ripe pears peeled & sliced
1 tbsp lemon juice
1/2 tsp almond extract
3/4 cup sugar
3 tbsp flour
1 cup raspberries (fresh or frozen)
Combine pears, lemon juice, almond extract. Add sugar & flour, mix well. Spoon into crust lined pan. Top w/ raspberries.
I made a crumb topping for mine ( 1/4 cup each---butter, brown sugar, flour. Cut together with knives. Add cinnamon, cardamom, & almond extract to flavor) but the recipe in the book says to use the top crust, if you do...brush with melted butter and sprinkle with sugar.
Bake at 400 degrees for 40-50 min. Cool 3 hours.
ENJOY! It's super yummy!
_________________
~*~Kimmy~*~
"Forget regret or life is yours to miss."
~Rent
# of March Challenges Completed:
8